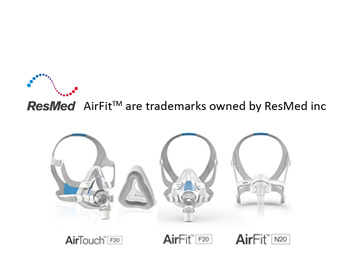 What is a CPAP mask  ?
The CPAP mask is one of the essential elements in the successful treatment of sleep apnea. There are three categories of CPAP masks. Nasal masks are the most common, followed by nasal masks and facial masks. It is essential to choose the ideal mask to limit or even eliminate side effects such as leaks, congestion on the face, skin irritations. Each CPAP mask has an opening that allows the CO2 that accumulates in the mask to be removed. It is important that the air outlet is quiet and rotating to prevent air flow to your partner.It is important to ensure that this opening is constantly free. Find our guide to choosing a mask .
Maintenance of the cpap mask:
The flexible part of the mask (in contact with your skin) should be cleaned every day. To do this, use a damp, clean cloth with warm water and a mild detergent. Rinse well. Weekly disassemble the mask and clean all parts in warm water with a mild detergent. The harness must also be washed (maximum 30 °). There are also cleaning wipes specially designed for this purpose.